Communications Workers of America
Maryland/West Virginia
2 West Potomac Parkway, Williamsport, MD 21795 Phone: 301-582-2105 Fax: 301-223-7160

Each and every member needs to double and re-double your efforts to demonstrate to this company that we are going to continue to fight until we achieve a fair contract that protects the jobs of our members and provides a quality network for our customers.
*Attention CWA Local 2105 Members*
Beginning April 23rd, Membership Meetings start at 6:00PM
Meeting dates can be found on the Calendar Page
T
he application process for the CWA Joe Beirne Foundation's scholarship for the 2018-2019 school year will close on April 30, 2018.
The Foundation's Board of Directors has approved the awarding of sixteen (16) partial college scholarships of $4,000 each for two years. Eligible for the scholarships are CWA members, their spouses, children and grandchildren, including the dependents of retired, laid-off, or deceased

Please follow this link at www.cwa-union.org/beirneposter for the poster that you can distribute to members and post on local websites to encourage participation. Full program details can be found on the website at:

This valuable scholarship program is made possible by the funding of CWA locals.
Communications Workers of America Local 2105 Memorial Scholarship Offered to Graduating Seniors

Local 2105's Executive board agreed in January 2007 to establish a scholarship in in memory of deceased members of the Local to benefit the children and grandchildren of members and retirees of Local 2105.

This year's scholarship is available to all High School graduating seniors. The Guidelines and Application can be found Here.
Health Care




Benefits




Coordinators

Ines Millard- 1-888-571-7218
MD/DC/VA/WV-Actives
Medical, Dental, Vision, Disability and Enrollment Issues
ines.l.millard@verizon.com
Jodi Grant- 1-888-324-4969
NJ/PA/DE-Actives
Medical, Dental, Vision, Disability and Enrollment Issues
jodi.l.grant@verizon.com
Cynthia (Cindy) Ebner- 1-866-248-4449
Mid Atlantic Retirees
Medical, Dental and Enrollment Issues
cynthia.x.ebner@verizon.com
The HCBC's can handle issues from any active or retired Mid-Atlantic CWA (NJ,
PA,DE,MD,DC,VA,WV) represented members, regardless of their home state.
Save Up To 35% On Your Orlando Vacation! Orlando Employee Discounts offers Exclusive Pricing on Hotels & Vacation Homes in or nearby Disney World and Universal Studios Orlando!

Orlando Vacation Employee Discount Newsletter

We are excited to present our latest employee discount newsletter to you and your company. Please

click here

to view our most current deals.If we can be of any assistance to you please feel free to give us a call at 888-632-1103.

Thanks,

Keith Jablon
Corporate Partnerships
Orlando Employee Discounts
888-632-1103 ext 7004
*ATTENTION MEMBERS!*
In accordance with the 2016 labor contract, any unused HRA balance as of December 31, 2017 will be forfeited. You have until March 31, 2018 to submit claims incurred through December 31, 2017 in order to exhaust your HRA balance. Claims with a date of service after December 31, 2017 will be denied. Your HRA can be used to pay for eligible health care expenses that are not covered, or are only partially covered, by medical, prescription, dental or vision insurance plans.
In 2016, Verizon is looking at everything our Members are posting On-Line.
Keep reminding our Members, especially those who are active Verizon employees, to be careful not to post anything on Facebook, Twitter, or any other social media site that in any way could jeopardize either their own or their fellow Union members' employment.
A Squirrel Knows No Boundries......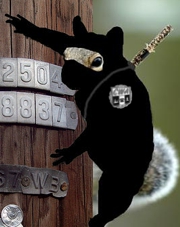 NEWS, CALENDAR, DOCUMENTS, PHOTOS, CONTACT, LINKS, MAIL